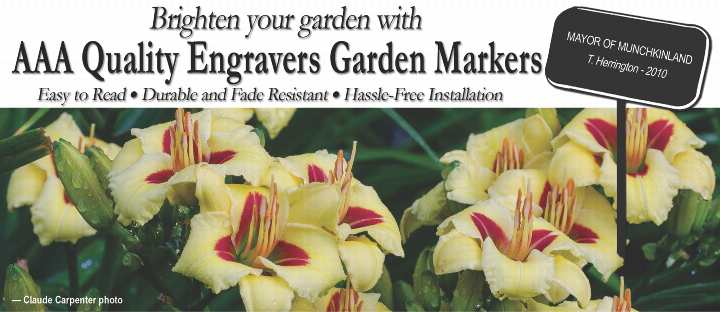 Welcome to our site!!!
AAA Quality Engravers was founded in 1991 in New Orleans and relocated to Mississippi in 2012. Initially, as avid gardeners, our express purpose was to provide quality Garden Markers at affordable prices for friends & home gardeners as well as for larger botanical gardens. More than one million Garden Markers have been produced since then. As time passed, AAA has produced engraved boat panels and tags for use by the military. Chemical plants and off-shore oil platforms use AAA engraved gages, signs, and equipment tags. Hotels, hospitals, churches and other enterprises order employee name tags as well as desk, door, and various other signs. Numerous garden societies use AAA club name tags. AAA supplies signs for nature & walking trails, arboretums, many universities, as well as major buildings in Washington and New York. AAA markets hundreds of photo recognition plaques for various events including graduation, fishing, hunting, racing, sports, etc. The business has spread into areas outside of the botanical field, although Botanical Garden Markers remain our specialty. Should your organization require engraved products similar to those mentioned, we welcome a chance to discuss these with you or your purchasing representative.

As a reflection of our original purpose, AAA prefers a more personal touch in our communications. Today, when one receives an answer on the telephone, it's normally someone overseas or a recording with music playing and statements about the importance of your call!!! Since most of our orders are custom designs, we prefer to speak with the customer initially to ascertain their best choices and/or provide options. The customer can then use e-mails, faxes, etc. to submit the engraving data. If you fail to reach us, please leave your number and the best time to contact you. We supply a free sample of the label to aid in the purchase decision. Since most of our orders have been generated via referrals, the "customer's satisfaction" is our primary goal. Refer to our customer comments section and/or speak directly with our customers to solicit their opinion on our products and service.
| | |
| --- | --- |
| Bernard & Warrene | |