GARDEN PRODUCTS
GARDEN LABELS
Engraved labels are an elegant method for identifying plants. AAA Quality Engravers has marketed over one million labels since 1991 and introduced the round cornered labels in the 1990's. Black labels are our choice as well as the choice of most botanical gardens due to their superior protection from the sun as well as blending well with the plants. AAA suggests green in areas with lower sun exposure. Other colors such as Coffee Bean are available. These labels include premium outdoor double sided tape for mounting. The nominally 1‑3/4" x 3‑1/2" labels are sized to fit numerous stakes such as Simply Elegant or See-Fine (both available from AAA), PAW-PAW style-E, Kincaid, EON style-E, and D. R. Garden Markers. Enjoy one of the lowest prices in the industry for labels engraved on premium modified acrylic outdoor material with life expectancy of 10-20 years. AAA includes 1-4 lines of block style Gothic engraving for one low price and any size order is welcome. New customers are invited to request a free label prior to purchase.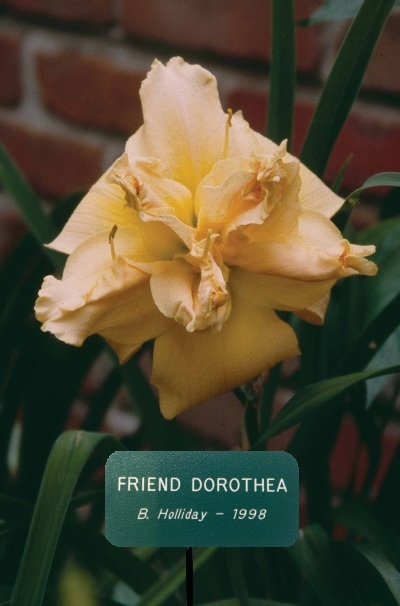 LABEL CHOICES
Colors
Black
Green
C

offee Bean
| | |
| --- | --- |
| | One Line |
Square Corners
| | |
| --- | --- |
| Two Line | |
Round Corners
| | |
| --- | --- |
| | Three Lines |
Round Corners
| | |
| --- | --- |
| Four Line | |
Round Corners
Custom Options
Custom Color - Red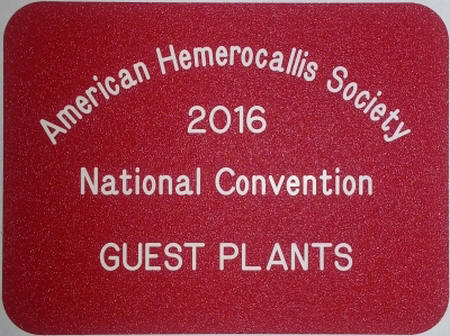 3" x 4" Bed Label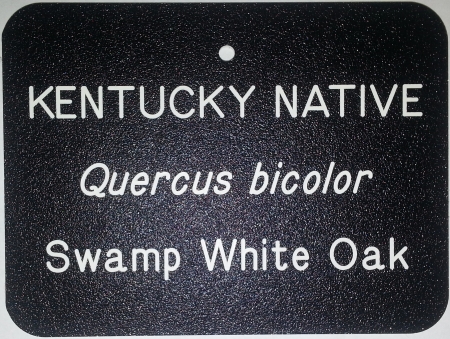 3" x 4" Tree Label

2" X 6" Hanging Label
Custom Fonts
This label illustrates a few custom options. The coffee bean color is available at no extra cost. Fonts shown are: 1) Gothic (Standard), 2) Roman (optional, $0.20 extra for first line only), 3) Cursive (optional), and 4) Contemporary (optional). Mounting or hanging holes are available for use with tacks or screws. Flower beds bordered by timbers are often found with these type labels. A single hole in the top center is often used for tree labels which are installed with tree tacks. Larger 3" x 4" tree and 2" x 6" labels are very popular for both bed and tree identification.
<![if !supportLists]> 1) <![endif]>(Recommended) E-Mail to daylilyranch@bellsouth.net with attachments produced in programs such as MS Word, MS Excel, or plain text (*.txt). Click the following link to download suggested list preparation. Click Here
<![if !supportLists]> 2) Type or paste your information into the Online Order Form Window<![endif]>
<![if !supportLists]> 3) <![endif]> E-Mail without attachments to daylilyranch@bellsouth.net
<![if !supportLists]> 4) <![endif]>Download, complete form & mail to AAA Quality Engravers, P.O. Box 9, Terry, MS 39170
<![if !supportLists]> 5) <![endif]>Download, complete form & FAX to (601)510-9396
<![if !supportLists]> 6) <![endif]>Call 1-(601)878-5999 with urgent request or for specific information and clarification
Select the stake you plan to use. We distribute Simply Elegant and See Fine stakes. If your choice is not listed, contact AAA to discuss label size for the stake of your choice.
Our standard labels are 1-3/4" x 3-1/2", 3"x4", and 2"x6". For custom sizes, contact AAA with specifications.

Specify the label color: black, green, or coffee bean or custom color; and corners either rounded or square.

Prepare your plant list using a program such as MS Word, MS Excel, or plain text (*.txt). If unable to use such a program, clearly print or type the list & fax or mail.

See examples and details for plant list in "PREPARING YOUR PLANT LIST" or Click Here for a copy.
For all plants, (see daylily info below) complete engraving required. Please do not abbreviate. Check spelling and either type or neatly print when sending list via U.S. Mail or Fax. It is helpful to group similar plants such as hosta, roses, daylilies, etc. since this aids research on your plant list. We prefer your list to be in Microsoft word or Excel or plain text (*.txt). It is important to type the list exactly as you want it engraved. If you want the name of the plant in all caps, type it that way. For daylilies, we suggest the name in caps and if it is a TET, then place an (*) at the end of the name. If it's a DIP, then just type the name. On the second line we suggest mixed case with the name of the hybridizer and the date of registration. The list should not be numbered or have extra spaces or tabs. The list will be simple in a single column for as many unnumbered pages as needed. When completed, name and save the file. Send an email and attach plant file. Use the body of the email for special instructions such as details about stakes, addresses, phone numbers, etc. Skip a line between each label. If you need three (3) QUEEN ELIZABETH labels, then see below:
3QUEEN ELIZABETH
Grandiflora

VETERANS' HONOR
Hybrid Tea

BARBARA MITCHELL
C. Pierce - 1984

A Day in Paradise*
P. Owen - 2014

A Few Good Men*
T. Bell - 2009

Barbara Mitchell
C. Pierce - 1984

QUEEN ELIZABETH

Hosta
'Big Daddy'

QUEEN ELIZABETH
Grandiflora
Rose of the Year 1999

JESSIE'S SONG
Years ago, most daylily growers preferred introduction rather than registration dates, but this has changed since the AHS placed registration data online. Display gardens and shows use registration dates. AAA suggests following the trend by using registration dates. Choose one of the following:
Daylily name only
Name and hybridizer only
Name, hybridizer and registration
Name, hybridizer and introduction
Information engraved only as on list
In addition to the above choice, supply info for all new daylilies registered in current year since detailed information is not released by AHS until next year
Daylily name
Hybridizer
Ploidy (Tet or Dip) An asterisk (*) is shown following the name of Tetraploids.
Year of Registration and Year of Introduction, if known
JAN 1, 2016
| | | |
| --- | --- | --- |
| QUANTITY | PRICE, EA | S and H |
| 500 & UP | $1.60 | $25.00 |
| 250-499 | 1.65 | 18.00 |
| 60-249 | 1.70 | 12.00 |
| 40-59 | 1.75 | 7.00 |
| 16-39 | 1.95 | 7.00 |
| 7-15 | 2.30 | 3.50* |
| 1-6 | 2.70 | 3.50* |
* 3.50 is first class, for priority include $7.00
Note: Prices shown are for 1-3/4" x 3-1/2" labels including Gothic Block print for up to 4 lines of engraving. For Roman print on line #1, add $.20 per label.

Total engraved labels
Price per label including extras
Multiply line (1) x line (2) & enter here
MS residents, enter 7% Sales Tax line (3) x .07
Please enter Shipping & Handling
Please add lines (3), (4), & (5) & enter here
We suggest either the 20" or 13" See-Fine stakes for bedding plants because of larger back plates and superior adhesion to galvanized stakes. We prefer the rounded corners on the labels, but can supply square if preferred. The tree labels are normally provided with a centered 1/8" hole in the middle top. (Tree tacks are purchased separately). We will also provide two holes in the top corners for wire or chain hanging. We can provide up to 4 holes if you prefer to mount on a weatherproof wooden plaque which can be affixed to the tree. The plaque should be sized to about 4"x5" to provide an attractive border.
3" x 4" & 2" X 6" TREE & BED LABEL PRICES EFFECTIVE JAN 1, 2016
| | | |
| --- | --- | --- |
| QUANTITY | PRICE, EA | S and H |
| 1 to 10 | $4.75 | $4.00 |
| 11 to 30 | $4.25 | $7.00 |
| 31 to 100 | $4.00 | $13.00 |
| 101 & UP | $3.90 | $20.00 |

DAYLILY DESIGN
This design is used by numerous clubs throughout the U.S. including groups other than daylily clubs. These are available with magnets ($6.50) or standard pins ($5.50) plus S&H. CAUTION: Persons wearing pacemakers must not wear the magnetic type tags since magnets can interfere with the pacemaker. Send an email for further ordering information since these are custom.

ROSE DESIGN
Rose club members as well as other garden clubs wear these name tags which are available in the magnet style for $6.50 or with pins for $5.50. CAUTION: Persons wearing pacemakers must not wear the magnetic type tags since magnets can interfere with the pacemaker. Send an email for further ordering information since these are custom.
AAA GARDEN MARKERS are assembled by installing our engraved labels onto the face plate of the selected stake with special sun-resistant double sided tape. The tape is included on the back of each AAA label. After label application, the GARDEN MARKER is ready for the garden. AAA will be pleased to supply labels for any of the stakes listed under Garden Labels.
The two stake brands we distribute are "SIMPLY ELEGANT" and "SEE-FINE". Both are heavy, single-rod stakes with an indented section at the bottom of the stake to reduce spinning and heaving in the ground. They work well in the various environmental conditions found in the U.S. & Canada.
The "SIMPLY ELEGANT" stake has baked-on black paint, providing corrosion protection; and the color blends well with plants in the landscape. Each SE stake is supplied with a removable polypropylene face plate to accept the engraved label.
The "SEE-FINE" stake was first introduced in 1953 and has endured the test of time in many nurseries throughout the U.S. producing an economical service as a sturdy stake. The "SEE-FINE stake is galvanized steel and includes a hinged galvanized face plate that rests on a 45-degree support arm. This face plate accepts the AAA label nicely. The original design of the AAA labels with rounded corners was developed to fit the SEE-FINE stake which demonstrates AAA confidence in this product.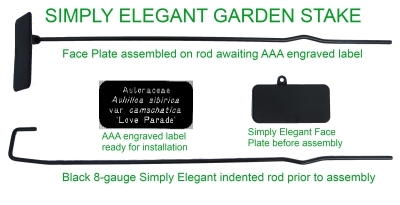 PRICING FOR "SIMPLY ELEGANT" GARDEN STAKES
| | | |
| --- | --- | --- |
| No. of Stakes | 25" price, ea | 15" price, ea |
| 1-49 | $1.75 | $1.65 |
| 50-99 | $1.60 | $1.50 |
| 100-249 | $1.45 | $1.35 |
| 250-499 | $1.40 | $1.30 |
| 500 & UP | $1.35 | $1.25 |
| Extra faceplates | $0.60 | $0.60 |
Pricing for "See-Fine" Garden Stakes
| | | |
| --- | --- | --- |
| No. of Stakes | 20" price, ea | 13" Price ea |
| 1-49 | $1.65 | $1.60 |
| 50-99 | $1.60 | $1.55 |
| 100-249 | $1.50 | $1.45 |
| 250-499 | $1.45 | $1.40 |
| 500 & UP | $1.40 | $1.35 |
**NOTE- FOR STAKE ORDERS ONLY: Due to the effects on shipping charges by location, fluctuating fuel prices, as well as the exact weight of the steel stakes , please withhold payment for stakes until notified by AAA of shipping cost. (We do this in order to reduce your shipping costs to the lowest possible amount.)
You may download an order form which can be mailed or faxed. We suggest that you consider making your request via the Online Order Form while utilizing the online price table above.
See Order Form for Details
We prefer to review order before payment is submitted
Payment can be mailed to P.O. Box 9, Terry, MS 39170 upon agreement.
We accept most major credit cards. DO NOT send credit card numbers via email or in the mail with the order form. We will agree on the credit card price including shipping and handling before accepting the credit card number over the phone.
Checks drawn on U.S. banks are acceptable.
U.S. postal and U.S. bank money orders are acceptable.
Cash via mail is not acceptable.
Sales are currently limited to the United States and Canada
Canadian orders shall be paid via money orders made on U.S. banks.
All orders for Mississippi residents are subject to 7% sales tax.
Payments are net 30 days on approved accounts.
Our products are custom, please send us an email with your needs and we will contact you soon. Thanks for your interest!!!
Type or paste your information into the Online Order Form Window and click the submit button. This form does not accept attachments.
You can send us your order, questions, or comments in the Online Order Form above or contact us at daylilyranch@bellsouth.net
| | |
| --- | --- |
| Bernard & Warrene | |